Relación entre la Enfermedad periodontal y complicaciones en el Embarazo
Resumen
Introducción: La periodontitis es una enfermedad multifactorial caracterizada por una respuesta inflamatoria desarrollada por el huésped frente a los microorganismos de la biopelícula bacteriana. El proceso localizado en la cavidad oral puede influir en el huésped a nivel sistémico provocando resultados adversos en el embarazo como parto prematuro, hipertensión materna y bajo peso del niño al nacer. Objetivo: Analizar el estado actual del conocimiento sobre los mecanismos probables que vinculan la periodontitis con resultados adversos en el embarazo. Material y métodos: Se efectuó una revisión de la literatura y una búsqueda de artículos publicados durante el periodo comprendido entre los años 2016 y 2021   en las bases de datos MEDLINE, PUBMED, SciELO, LILACS, idioma inglés y/o español. Las búsquedas se realizaron utilizando los siguientes términos: Periodontitis, mediadores de inflamación, complicaciones del embarazo, parto prematuro. Resultados: Se analizaron un total de 24 publicaciones, incluidas revisiones de la literatura, revisiones sistemáticas, estudios de cohorte, estudios de casos y controles y estudio observacionales, que cumplieron con los criterios de inclusión. Conclusión: La periodontitis es un factor de riesgo evitable por lo que se recomienda intensificar las medidas de prevención y tratamiento, en embarazadas y en mujeres en edad fértil.
Descargas
Los datos de descargas todavía no están disponibles.
Referencias
Albandar, J. M., Susin, C., & Hughes, F. J. (2018). Manifestations of systemic diseases and conditions that affect the periodontal attachment apparatus: Case definitions and diagnostic considerations. Journal of clinical periodontology, 45, S171-S189.
Amir M, Brown JA, Rager SL, Sanidad KZ, Ananthanarayanan A, Zeng MY (2020). Microbioma materno e infecciones en el
embarazo. Microorganismos. 8 (12): 1996. Disponible en: https://www.ncbi.nlm.nih.gov/pmc/articles/PMC7765218/
Britos, M. R., Sin, C. S., & Ortega, S. M. (2019). Enfermedad periodontal y su implicancia en la diabetes mellitus: revisión de la literatura. Rev. Ateneo Argent. Odontol, 33-40. Disponible en: https://docs.bvsalud.org/biblioref/2020/09/1119529/articulo4.pdf
Chopra, A., Radhakrishnan, R. y Sharma, M. (2020).Porphyromonas gingivalis y resultados adversos del embarazo: una revisión sobre sus intrincados mecanismos patogénicos. Revisiones críticas en microbiología 46 (2), 213-236.
Cobb, C. M., Kelly, P. J., Williams, K. B., Babbar, S., Angolkar, M., & Derman, R. J. (2017). The oral microbiome and adverse
pregnancy outcomes. International journal of women's health, 9, 551. Disponible en: https://www.ncbi.nlm.nih.gov/pmc/articles/PMC5557618/pdf/ijwh-9-551.pdf
Coppenhagen-Glazer, S., Sol, A., Abed, J., Naor, R., Zhang, X., Han, Y. W., & Bachrach, G. (2015). Fap2 of Fusobacterium nucleatum is a galactose-inhibitable adhesin involved in coaggregation, cell adhesion, and preterm birth. Infection and immunity, 83(3), 1104-1113. Disponible en: https://www.ncbi.nlm.nih.gov/pmc/articles/PMC4333458/
Dartiguelongue, J. B. (2020). Inflamación sistémica y sepsis. Parte I: generación de la tormenta. Arch. argent. pediatr, e527-e535. Disponible en: https://www.sap.org.ar/docs/publicaciones/archivosarg/2020/v118n6a16.pdf
de Morais Santos, M. P., Barbosa, L. M. da Fonseca, E. L. G., de Lima, C. H. R. da Silva, T. C. L., dos Santos Souza, T. G., ... & Laureano Filho, J. R. (2020). Presença de patógenos periodontais em placentas de mulheres com pré-eclâmpsia: Revisão de literatura. Research, Society and Development, 9(9), e556997707-e556997707. Disponible en: https://www.rsdjournal.org/index.php/rsd/article/view/7707/6747
Fajardo Puig, M. E., Rodríguez Reyes, O., & Rodríguez Bacallao, A. (2017). Las hormonas sexuales femeninas y su relación con la enfermedad periodontal. Medisan, 21(1), 108-112.. Disponible en: http://scielo.sld.cu/pdf/san/v21n1/san13211.pdf
Figuero, E., Han, Y. W., & Furuichi, Y. (2020). Periodontal diseases and adverse pregnancy outcomes: mechanisms.
Periodontology 2000, 83(1), 175-188.
Fujiwara, N., Tsuruda, K., Iwamoto, Y., Kato, F., Odaki, T., Yamane, N., ... & Noguchi, M. (2017). Significant increase of oral bacteria in the early pregnancy period in Japanese women. Journal of investigative and clinical dentistry, 8(1), e12189. Disponible en: https://www.readcube.com/articles/10.1111/jicd.12189
Galloway, CE (1931). Infección focal. The American Journal of Surgery, 14 (3), 643-645.
García, R. C., Culqui, S. F., Benalcázar, R. Q., Raymi, A. C., Navarro, M. P., & Vásquez, Ó. T. (2019).Enfermedad periodontal
asociada al embarazo. Revista Científica Odontológica, 7 (1), 132-139. Disponible en: https://revistas.cientifica.edu.pe/index.php/odontologica/article/view/496/555
Genco, R. J., & Sanz, M. (2020). Clinical and public health implications of periodontal and systemic diseases: An overview.
Periodontology 2000, 83(1), 7-13. Disponible en:https://www.vertuo-sante.com/wp-content/uploads/2020/08/philosophie-de-traitement.pdf
Green ES, Arck PC.(2020). Pathogenesis of preterm birth: bidirectional inflammation in mother and fetus. Semin
Immunopathol,42(4):413-429. Disponible en:https://link.springer.com/content/pdf/10.1007/s00281-020-00807-y.pdf
Hajishengallis, G. y Diaz. (2020). Porphyromonas gingivalis: actividades de subversión inmunitaria y papel en la disbiosis
periodontal. Informes actuales de salud bucal, 7 (1): 12-21. Disponible en:https://www.ncbi.nlm.nih.gov/pmc/articles/
PMC7747940/
Hajishengallis, G., Chavakis, T. (2021). Mecanismos locales y sistémicos que vinculan la enfermedad periodontal y las
comorbilidades inflamatorias. Nat Rev Immunol. Disponible en :https://doi.org/10.1038/s41577-020-00488-6
Herane, M., Godoy, C., & Herane, P. (2014). Enfermedad periodontal y embarazo. Revista médica Los condes, 936 - 943.
Disponible en:https://www.sciencedirect.com/science/article/pii/S0716864014706418
Hill, G.B. (1998).Preterm birth: Associations with genital and possibly oral microflora. Ann. Periodontol, 3, 222–232
Lamont, RJ, Koo, H. y Hajishengallis, G.(2018). La microbiota oral: comunidades dinámicas e interacciones de acogida. Nat. Rev. Microbiol. 16 , 745–759
León Ruiz MD.(2007). Fisiología Del Inicio Del Parto. Clase de residentes. Hospital Virgen de las Nieves. Granada, España.
Disponible en: http://www.hvn.es/servicios_asistenciales/ginecologia/clases_residentes.p
Lo, J. O., Mission, J. F., & Caughey, A. B. (2013). Hypertensive disease of pregnancy and maternal mortality. Current Opinion in Obstetrics and Gynecology, 25(2), 124-132.Disponible en:https://pubmed.ncbi.nlm.nih.gov/23403779/
Mendoza Pinedo, C. S. (2020). RELACIÓN ENTRE PERIODONTITIS Y PREECLAMPSIA EN EL HOSPITAL GUILLERMO ALMENARA
IRIGOYEN. LIMA, 2019. Disponible en: http://repositorio.uwiener.edu.pe/handle/123456789/4048
Nadeau-Vallee M, Quiniou C, Palacios J, Hou X, Erfani A, Madaan A, Sanchez M, Leimert K, Boudreault A, Duhamel F, Rivera
JC, Zhu T, Noueihed B, Robertson SA, Ni X, Olson DM, Lubell W, Girard S, Chemtob S.(2015) Un nuevo ligando sesgado por
el receptor de IL-1 no competitivo previene el parto prematuro inducido por infección e inflamación. J Immunol. 195 (7):
–3415. Disponible en: https://www.jimmunol.org/content/jimmunol/early/2015/08/21/jimmunol.1500758.full.pdf
Oettinger ‐ Barak, O., Barak, S., Ohel, G., Oettinger, M., Kreutzer, H., Peled, M. y Machtei, EE.( 2005). La complicación grave del embarazo (preeclampsia) se asocia con una mayor destrucción periodontal. Revista de periodoncia , 76 (1):134-137.Disponible en:https://www.researchgate.net/publication/272201423_La_periodontitis_como_factor_de_riesgo_de_preeclampsia
Offenbacher S. Lieff S. Boggess KA. Murtha AP. Madianos PN. Champagne CM. McKaig RG. Jared HL. Beck JD.(2006).
Progressive Periodontal and Risk of Very Preterm Delivery. Obstet Gynecol,107: 29-36.Disponible en: http://citeseerx.ist.psu.edu/viewdoc/download?doi=10.1.1.627.7868&rep=rep1&type=pdf
Offenbacher, S., Beck, J. D., Jared, H. L., Mauriello, S. M., Mendoza, L. C., Couper, D. J., ... & Hauth, J. C. (2009). Maternal
Oral Therapy to Reduce Obstetric Risk (MOTOR) investigators. Effects of periodontal therapy on rate of preterm
delivery: a randomized controlled trial. Obstet Gynecol, 114(551), 9.. Disponible en:https://journals.lww.com/greenjournal/
Fulltext/2009/09000/Effects_of_Periodontal_Therapy_on_Rate_of_Preterm.11.aspx
Orrego M, Parra M, Salgado Y, Muñoz E, Fandiño V. (2015).Porphyromonas gingivalis y enfermedades sistémicas. CES odontol,28( 1 ): 57-73. Disponible en:http://www.scielo.org.co/scielo.php?script=sci_arttext&pid=S0120-971X2015000100006&lng=en.
Potempa, J., Mydel, P. & Koziel, J. (2017)El caso de la periodontitis en la patogenia de la artritis reumatoide. Nat. Rev. Rheumatol., 13 , 606–620
Puertas A., Magan-Fernandez A., Blanc V., et al. (2018).Asociación de periodontitis con parto prematuro y bajo peso al nacer: una revisión integral. Revista de Medicina Materno-Fetal y Neonatal . , 31 (5): 597–602.
Rana, S., Lemoine, E., Granger, J., Karumanchi, S. A. (2019).Preeclampsia.Circulation Research, 124(7):1094–1112.
lReyes, L., Phillips, P., Wolfe, B., Golos, TG, Walkenhorst, M., Progulske-Fox, A. y Brown, M. (2017). Porphyromonas gingivalis y resultado adverso del embarazo. Revista de microbiología oral, 9 (1), 1374153.
Robertson SA, Christiaens I, Dorian CL, Zaragoza DB, Care AS, Banks AM, Olson DM. (2010). La interleucina-6 es un
determinante esencial del parto a tiempo en el ratón. Endocrinología,151 (8): 3996–4006.
Sánchez MM. (2008). Prostaglandinas y Función reproductiva.Servicio de Obstetricia y Ginecología Hospital Universitario
Virgen de las Nieves Granada Disponible en: http://www.hvn.es/servicios_asistenciales/ginecologia_y_obstetricia/ficheros/cr08.pg_fn_reproductiva.pdf.
Socransky, S. S., & Haffajee, A. D. (2005). Periodontal microbial ecology. Periodontology 2000, 38(1), 135-187.
Socransky SS, Haffajee AD. (1992). The bacterial etiology of destructive periodontal disease: Current concepts. J Periodonto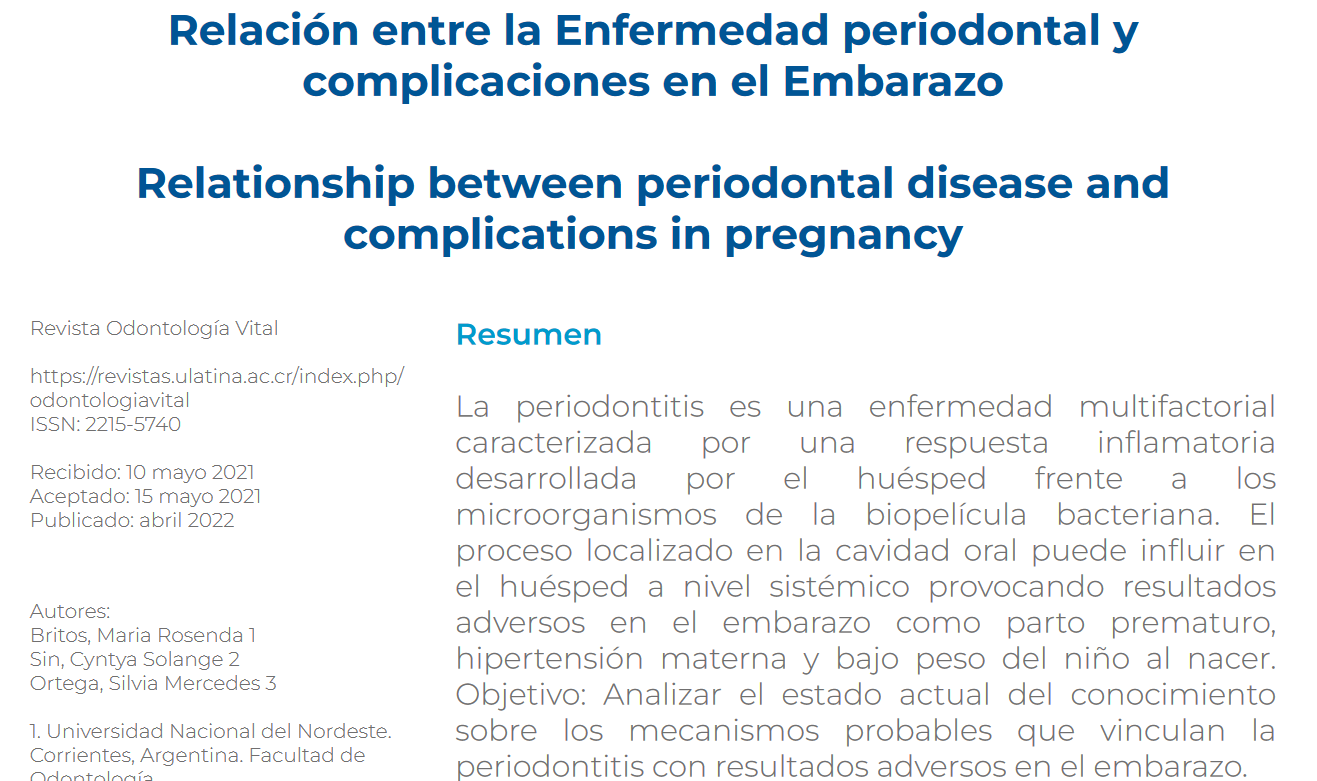 Cómo citar
Britos , M. R., Sin, C. S. ., & Ortega, S. M. (2022). Relación entre la Enfermedad periodontal y complicaciones en el Embarazo. Odontovital, 1(36), 3–33. Recuperado a partir de https://revistas.ulatina.ac.cr/index.php/odontologiavital/article/view/456
Licencia
Derechos de autor 2022 María Rosenda Britos , Cyntya Solange Sin, Silvia Mercedes Ortega
Esta obra está bajo una licencia internacional Creative Commons Atribución-NoComercial-CompartirIgual 4.0.