Resistencia antibiótica y cavidad oral
Resumen
Se ha encontrado que la estabilidad estructural del biofilm, sumada a la gran proximidad entre las células bacterianas, constituye un medio ideal para la transferencia genética entre ellas. Este mecanismo permite la adquisición del ADN disponible en el ambiente externo y genera un impacto trascendental en la plasticidad del genoma bacteriano, y también en la adaptación y evolución de las bacterias. Estas características adquieren una relevancia especial cuando sus implicaciones pueden manifestarse en la resistencia a los antibióticos.
Descargas
Los datos de descargas todavía no están disponibles.
Referencias
Auer, D.L.; Mao, X.; Anderson, A.C.; Muehler, D.; Wittmer, A.; von Ohle, C.; Wolff, D.; Frese, C.; Hiller, K.-A.; Maisch, T.; et al. Phenotypic Adaptation to Antiseptics and Effects on Biofilm Formation Capacity and Antibiotic Resistance in Clinical Isolates of Early Colonizers in Dental Plaque. Antibiotics 2022, 11, 688. https://doi.org/10.3390/antibiotics11050688
Barrientos S., Serna F.S., Díez H., Rodríguez A. Resistencia a la amoxicilina de cepas de Streptococcus mutans aisladas de individuos con antibioticoterapia previa y sin esta. Univ Odontol. 2015 Ene-Jun; 34(72): 101-106. http://dx.doi.org/10.11144/Javeriana.uo34-72.rac
Brooks L., Narvekar U., McDonald A., & Mullany P. (2022). Prevalence of antibiotic resistance genes in the oral cavity andmobile genetic elements that disseminate antimicrobial resistance: A systematic review. Molecular Oral Microbiology, 37,133– 153. https://doi.org/10.1111/omi.12375
Buonavoglia, A.; Leone, P.; Solimando, A.G.; Fasano, R.; Malerba, E.; Prete, M.; Corrente, M.; Prati, C.; Vacca, A.; Racanelli, V. Antibiotics or No Antibiotics, That Is the Question: An Update on Efficient and Effective Use of Antibiotics in Dental Practice. Antibiotics 2021, 10, 550. https://doi.org/10.3390/antibiotics10050550
Fariña, Norma. (2016). Resistencia bacteriana: un problema de salud pública mundial de difícil solución. Memorias del Instituto de Investigaciones en Ciencias de la Salud, 14(1), 04-05. https://dx.doi.org/10.18004/Mem.iics/1812-9528/2016.014(01)04-005
Jain K., Parida S., Mangwani N. et al. Isolation and characterization of biofilm-forming bacteria and associated extracellular polymeric substances from oral cavity. Ann Microbiol 63, 1553–1562 (2013). https://doi.org/10.1007/s13213-013-0618-9
Mah T.F., O'Toole G.A. Mechanisms of biofilm resistance to antimicrobial agents. Trends Microbiol. 2001 Jan;9(1):34-9. doi:10.1016/s0966-842x(00)01913-2. PMID: 11166241
Moraes L.C., Só M.V., Dal Pizzol Tda S., Ferreira M.B., Montagner F. Distribution of genes related to antimicrobial resistance in different oral environments: a systematic review. J Endod. 2015 Apr;41(4):434-41. doi: 10.1016/j.joen.2014.12.018. Epub 2015 Mar 3. PMID: 25748493.
Quirós, P. (2018). Los bacteriófagos como elementos de transmisión genética horizontal de resistencias a antibióticos y toxinas Stx [Tesis de doctorado no publicada]. Universitat de Barcelona
Roberts AP, Mullany P. Oral biofilms: a reservoir of transferable, bacterial, antimicrobial resistance. Expert Rev Anti Infect Ther. 2010 Dec;8(12):1441-50. doi: 10.1586/eri.10.106. PMID: 21133668.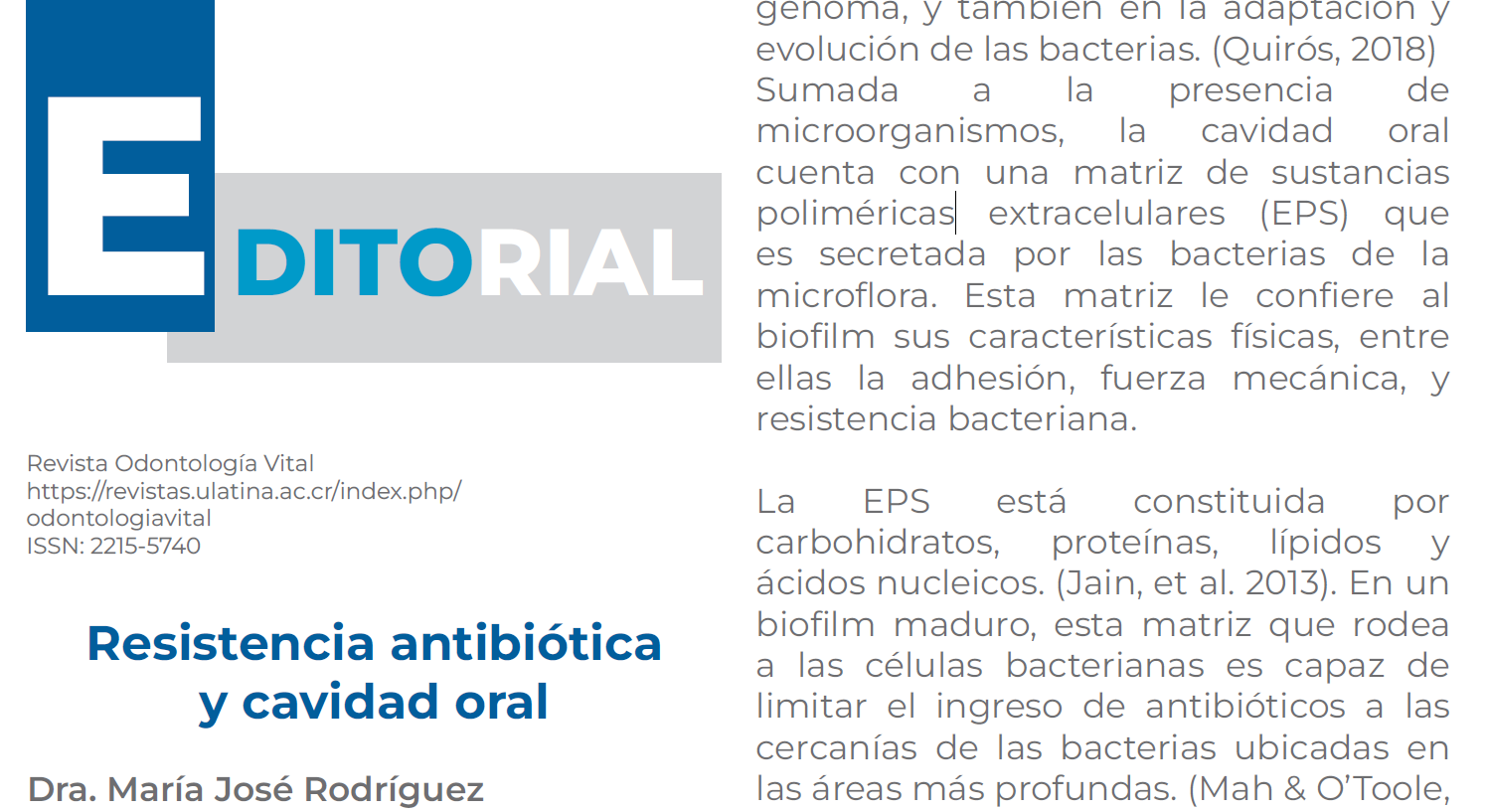 Cómo citar
Rodriguez, M. J. (2022). Resistencia antibiótica y cavidad oral. Odontovital, 2(36), 3–7. Recuperado a partir de https://revistas.ulatina.ac.cr/index.php/odontologiavital/article/view/527
Licencia
Derechos de autor 2022 María José Rodriguez
Esta obra está bajo una licencia internacional Creative Commons Atribución-NoComercial-CompartirIgual 4.0.